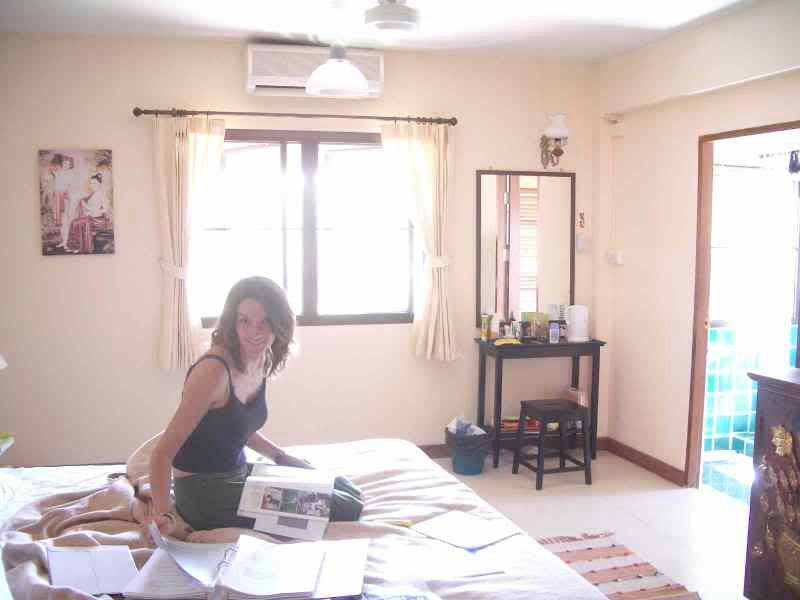 So, as many of you know, I am deep within the bowels of CELTA and all I have to say is DAMN, the English language is hard. Some days, my head spins with the lessons that feel more like I'm learning the chaos theory than a viable human language, and I thought I already knew English! The course really is intensive and takes over one's life. I don't know how I could do it, if I had my regular life moving around me. However, I guess living in Thailand is my regular life these days.
I am very much in the boonies of Chiang Mai outside of Hang Dong… yes, that's right, the place is called Hang Dong.
But anyways, being in the middle of nowhere can be a blessing and a curse. The great things are that the place has a very retreat feel with all the yummy homemade Thai meals scheduled and served buffet style, the area is quiet and pretty, there are few distractions, and it is easy to not spend any money. What's rough is that you have to pay a pretty penny and schedule in advance if you want a taxi to get out of here, and that is pretty much the only way to go anywhere, unless you just want to go on a nice walk. The internet is very iffy (hey, at least there is internet), and you have to very consciously make an effort to not go stir-crazy.
I did turn out to be the only woman on the course, aside from one of the tutors. There are 10 students (9 guys, one girl) and 2 tutors (one guy one girl); we are mostly from England, with dabbles of folks from Australia, New Zealand, Ireland, Germany and then there's the one bloody American (that's me), and we have all become a makeshift happy, neurotic, tired, funny, family. It's just me and the boys, and sometimes some Thai students show up to learn English and every once in a while, on a good day, we teach them something.
That is really the best part of it all for me. I feel really good about the decision to do the CELTA. Being a teacher is a god fit. I had a really hard time of it at first, stumbling and mumbling along, teaching modal auxiliaries of permission while in the back of my head I'm thinking "What the hell is a modal auxiliary of permission?" (By the way, that's can and allowed to for you!) Now, however, I think I'm starting to get the hang of this thing and I am actually starting to enjoy building lesson plans and researching learning styles and searching for appropriate grammar activities and situational presentations, CCQs… you know what I mean.
But, don't worry, I have managed to get off of this island a few times with the boys, and the excursions have definitely been necessary. The first weekend, I fell ill and had to watch sad-faced as the guys headed out to night markets and bar-hopping. This last weekend, however, I was able to be a fully engaged participant.
Saturday night, a few of us did your basic pub-crawl in Chiang Mai. Started at some girl bar (use your imagination as to what that means) where we played pool and drank beer. We moved on to other pubs and eventually food. At one point we walked up and dowm Moon Muang Rd. looking for a rugby game that was supposed to be on TV that we never found (I'm also the only American). Just when we were about to give up and head home we decided to go to the hip dance club in Chiang Mai, Bubbles. I don't remember whose idea that was. I think it was something like all of our and none of ours. The club was fun and funny at the same time. It was a very eclectic mix of folks bouncing about to House music and picking up on each other. I got to get my groove on, and if you know me, you know that that's a good thing. The whole thing was quite a lot of fun.
A couple of "teachers"
That night, I also had my first taxi-gets-lost-on-its-way-to-the-middle-of-nowhere-in-the-pitch-black-with-a-group-of-native-English-speakers-who-all-have-different-accents-in-Thailand-who-are-studying-to-become-English-teachers experience. I think that songtaew was driving around on dirt roads in the middle of nowhere, Hang Dong, for a good hour. We have a map, but for some reason, it seems like there are really only 2 taxi drivers in the whole world who know where the place is.
Yesterday, after doing some work for the first half of the day, another group of us went back into town for some good food, massages, and the added benefit of getting out of the hamster cage for a few hours. A couple of the guys and I went to the university area where we found a quaint café for dinner and a terrific spa for massages. I got the head, back, and shoulder version and I am officially hooked. That's definitely what you need after being hunched over a computer and a desk for a couple of weeks. We wandered down the street and ran into some baby elephants that we bought some sugar cane for that they snacked on happily.
We caught a tuk tuk back to the night market area to meet up with another of our motley crew where we proceeded to pig out on night market Thai desserts. It's easy to want to try a little bit of this and a little bit of that and by the time you realize it, you've had a meal of sweets. But, hey, half of them were just rice (yummy coconut rice, sticky rice, rice with dates, custard rice, rice, rice).
After sweetly filled bellies it was time for another adventure in taxi-gets-lost-on-its-way-to-the-middle-of-nowhere-in-the-pitch-black-with-a-group-of-native-English-speakers-who-all-have-different-accents-in-Thailand-who-are-studying-to-become-English-teachers, but this time we were yelling "We're going to die" in German (courtesy of a quick lesson in German from my friend and fellow teacher Jan) and singing camp songs to the open night sky as the songtaew turned around and swerved over and over again, and coated us with a light dusting of dirt and grime. Eventually, we did make it home. I don't know how it happens, but somehow we always do. (Apparently, the other group that went out last night did the drive for 2 hours… we were lucky.)
After a fantastic CELTA Monday and a lengthy blog entry, I am very ready for bed. I got some whole big day of English talk stuff tomorrow and the next day, and the next, and the next…
With that said, I must apologize for my lack of communication, both in the frequency of blog entries these days and the personal emails that I wish I could email you on a daily basis. I am nothing without my friends and family. You make me strong just knowing you are there.